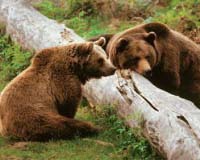 On April 28, 2006, two Slovenia brown bears (
Franska
and
Polouma
) were released deep in the Pyrenees mountains as part of an on-going reintroduction project in France. The bear population dwindled to the teens, down from hundreds a century ago. Loss of habitat and indiscriminate hunting over the years have been cited as primary reasons. We were down here in
Leran
on our first visit at the time and tried to decipher much
information
as possible. Farmers and shepherds were up in arms because they feared for their stock, their children, and their dogs. Huge protests, including tractors and sheep blocked roads and surrounded government buildings in defiance of the reintroduction program. Hikers found jars left on the ground labeled "Anti-Bear Poison" that turned out to be honey laced with ground-up glass---a sweet welcome. It was like being back in Yellowstone during the wolf reintroduction.
I was in the
Leran
boulangerie
the other day and the headlines of La
Depeche
, the daily newspaper of the Midi-Pyrenees, caught my eye. It was something about the "
OURSE
FRANSKA
!"
Franska
was being heavily pursued. Since she had emerged from hibernation, a whopping 93 ewes had been killed; and
Franska
was #1 on the suspect list. The latest mass murder down the road in
Orlu
pushed the
stockmen
over the edge and they hauled the carcasses of the dead ewes with them and dumped them at the door of the environmental director as a way of illustrating that 'this nonsense cannot continue'. No one had actually seen
Franska
do any of the killing, so she was really just wanted for questioning I presume.
The situation has become increasingly tense over the past few days as
Franska
continues to outwit the local
posse
. An official decree has been issued to capture her and relocate her deeper into the Pyrenees where she has less chance of mingling with sheep....and people. If indeed
Franska
is the guilty party, one way or another her days are probably numbered. Problem bears and wolves captured outside Yellowstone were relocated in the Park hundreds of miles from their former habitat, and sometimes reappeared within short periods of time right back where they were
before
capture. As long as bears and wolves don't attack humans in Yellowstone, they can come and go as they please. Leave the park and the rules of society engage. This is how it is for
Franska
and the Pyrenees bears---DON'T KILL MY SHEEP!
Franska
may have stuck her foot in the honey jar one too many times.